You'll find my travel and humor articles in magazines such as Taste and Travel International, Real Simple and Writer's Digest and in newspapers throughout the U.S. and Canada. I regularly contribute to popular travel websites and have been interviewed everywhere from the Today Show to the Wall Street Journal.
Seeking Wine Wisdom
in the Napa Valley
Swirl, sniff and sip your way to the head of the class
Taste & Travel Magazine

Nashville
Country Cool and Hipster Hot

Hot chicken and honky tonks shoulder up to trendy breweries and an elevated Southern food scene
Taste & Travel Magazine
Memphis
The Soul of the South

This Southern city celebrates bbq, blues, soul music and civil rights throughout the town.

Taste & Travel Magazine

Warsaw and Krakow
Dish It Up and Pour it On
Poland's contemporary cuisine and craft beer trends blend old world traditions with new techniques
Taste & Travel Magazine
Sampling the bubbly on its home turf

Taste & Travel Magazine

The flavor of Guatemala in just a few flashy steps
The Dallas Morning News Sunday Travel

Old World Beauty, New World
Flavors-San Miguel de Allende
A romantic Spanish colonial gem packed with art galleries, folk art and sophisticated restaurants
Taste & Travel Magazine

A Travel Writer's Oath
No more hackneyed phrases,
Scout's honor!

Writer's Digest Magazine

Northern California's
Artisanal Cheese Trail
On the scent of small-batch cheeses that rival the best in the world
Taste & Travel Magazine
Santa Barbara
Wine Country by the Sea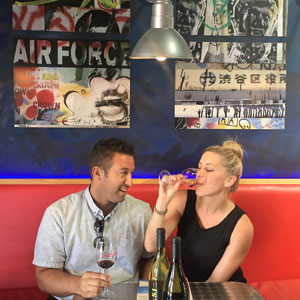 World class wines, warm beaches and artisanal food to match in this casual and easy town
Taste & Travel Magazine
The best of the Big Island's bounty for every budget and taste
Taste & Travel Magazine
Small plates meet big flavor in this beachfront Basque town
Taste & Travel Magazine
Portland Loves Craft Beer
A trendy town with more brewpubs per capita than any city on the planet
Taste & Travel Magazine
Arty photos? Self-serving brag sheets? Only cards from your dentist?
Real Simple Magazine
Three stellar grape-growing valleys converge in this sophisticated, walkable, wine country village
Taste & Travel Magazine
Kansas City
'Cue and Brew
Roadside rib joints and first-rate craft beer hit the spot
Taste & Travel Magazine
Sampling the Suds in
Sunny San Diego
Exploding numbers of brewmasters in this laid-back beach town craft beers in every possible syle
Taste & Travel Magazine
Calorie Expenditures
That May Surprise You
Unexpected everyday exercises your Fitbit will never recognize
Real Simple Magazine
San Antonio Culinaria Festival
This spicy Tex Mex culinary bacchanal features San Antonio's finest chefs, coolest food trucks and tastiest dishes
Taste & Travel Magazine
Winter's Coolest Fairs and Festivals
Ice castles, snowball eating contests, ice bowling and more
Family Fun Magazine
California Edible Highway 1
Where to find the best eats on one of the world's most beautiful road trips
Taste & Travel Magazine
The best in upscale and down home Southern cooking in the capital city
Taste and Travel Magazine
Tropical
Trendsetting Oahu
Feast on an international culinary scene that's exploding with imagination and daring
Taste & Travel Magazine
The Best Food and Restaurants in San Miguel de Allende

From casual Mexican classics to culinary superstars
Publishing credits (partial)
Real Simple
Taste and Travel International
Writer's Digest
Family Fun
Ladies Home Journal
Parents
Diversion
Adventure West
Child
Dallas Morning News
Miami Herald
Moneysworth
I've also written six travel books
Amazing Places
to Take Your Kids:
Hundreds of North American adventures
Tropical Family Vacations
In the Caribbean, Hawaii, South Florida and Mexico
Great Caribbean Family Vacations
Where to stay, what to see and do on 30 islands
Innocents Abroad: Traveling with Kids in Europe

A complete country-by-country guide
The Best Bargain Family Vacations in the U.S.A.
More than 250 high-quality, low-cost destinations