Paris' most popular tourist attractions are enough to make a body thirsty – climbing the Eiffel Tower, wandering miles of grand galleries at the Louvre, and walking the Champs–Élysées from the Arc de Triomphe to the Place de la Concorde. Sure you can quench your thirst on the run with the water bottle out of your backpack, but you're in Paris, where glamour rules the town. And in the City of Lights, the ultimate thirst quencher in bottled glamour is champagne. 
If you know where to go to get off your feet and get your bubbly on, you can refresh at any number of places — chic champagne bars in elegant Parisian hotels, champagne shops that hold tastings in centuries-old caves, and grand department stores that want to keep you inspired and refreshed.  They're near many major attractions… and a perfect way to revive and regroup before you head out to your next destination …
Louvre Museum – Of course you can have a flute of fizz at the Louvre's Café Marly, but you can also head a few blocks away to really unwind from museum fatigue at warm and welcoming O Chateau wine/champagne bar, tasting room and café. In addition to flights of champagne and seasonal dishes, they offer a lux champagne cruise on the Seine and a day tour of the Champagne region.
Notre-Dame Cathedral – After you've walked around the venerable cathedral to pay your respects, cross the bridge to Dilettantes Maison du Champagne.  Its owner Fanny, the daughter of champagne makers, pours the small batch varietals and grand cuvées this part of the world is known for.  Sit in the atmospheric 17th-century vaulted cellar while you sip – you can order cheese and charcuterie plates, too – and then purchase a bottle from one of the 130 different estate-grown champagne houses to take back to your hotel for a nightcap.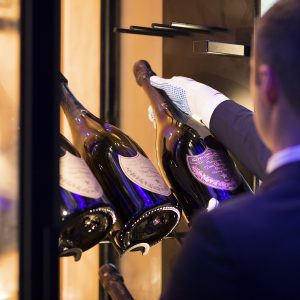 Grand Palais and Petit Palais – Once you've viewed the easy-to-navigate art collections at these two architectural gems, keep the art vibe going at Plaza Athénée's romantic Le Bar. Its décor is part wild modern art installation and part old world elegance and glamour, and its champagne list features the best makers in France highlighted by a selection of exclusive Dom Pérignon vintages.  In the evening, house DJs creates a cool vibe while you people watch.  
Arc de Triomphe –  If you're needing refreshing near in the Arc de Triumph, head to refined, historic  Le Dokhan's Bar in the Dokhan Hotel. It's Paris' oldest champagne bar and one of the most beautiful, with its green 18th-century antiques-furnished opulence and encyclopedic list of champagnes — from the big glamour houses to small artisanal producers.  If you visit on Thursday, you can sip bubbles while a jazz trio plays. 
Jeu de Paume – You've watched an edgy video installation and explored the photography galleries — now it's time to discuss what you've seen with a glass of effervescent inspiration.  At Mandarin Oriental's sleek and glamorous Bar 8 you can select from a champagne list with 120 different bottles to help you discuss modern art with ease. Gem-encrusted walls flicker in the bar's moody lighting and make your bubbles glow and your conversation sparkle. The bar's outside garden area is equally compelling.
Passage des Panoramas – Built in 1799, this vintage covered shopping arcade was once home to stamp collecting shops. Today there are restaurants and bars along with vintage postcard and stamp shops, print vendors, and coin and autograph stores.  When your energy dips, Canard et Champagne has the perfect combination of sustenance in solid and liquid form. It's an unusual combination for a restaurant to specialize in, but nothing cuts through the richness of duck like a crisp and refreshing glass of bubbly.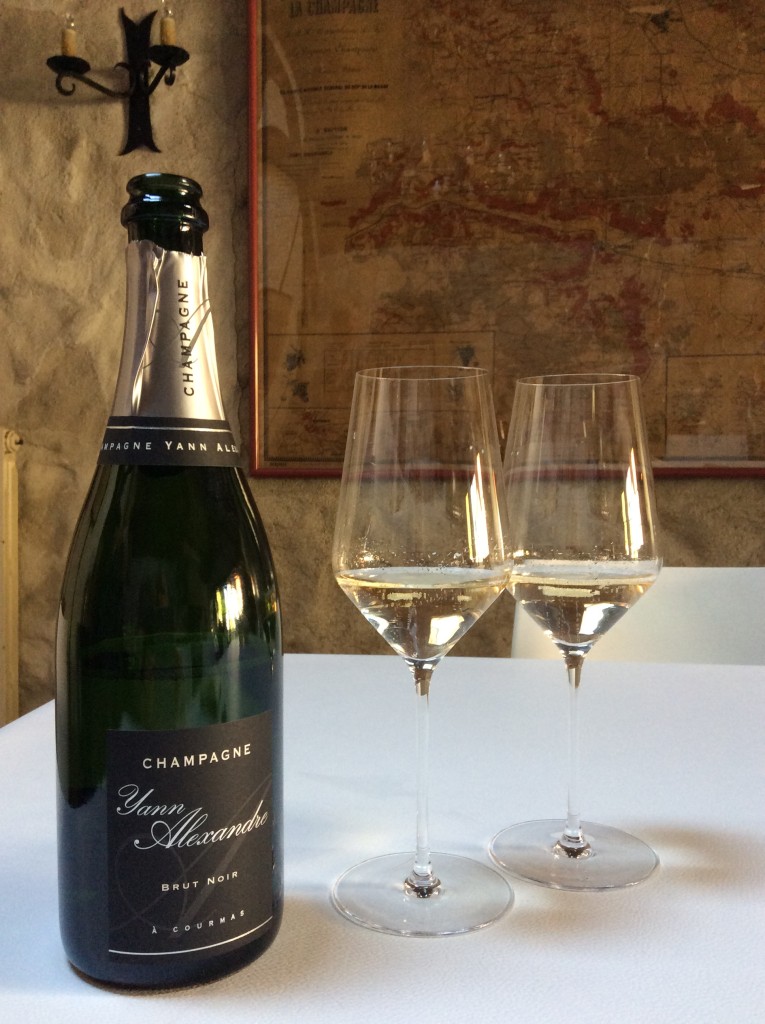 Galeries Lafayette – Rest your legs and quench your thirst with a flute of champers at this stylish department store's Petrossian Caviar cafe. The grand magasin has 20 different food options, but when you feel faint from trying on too many Paris fashions, this is the stop for a small and exquisite protein bump while you sip something cool and frothy.
Eiffel Tower – Whether you climb the steps or wait in the often lengthy elevator line, you'll surely need a reward for your efforts when you reach the top of the world's most romantic structure.  And the mind-blowing view from the Bar à Champagne on the third level could be the most beautiful outlook anywhere in the world to enjoy a glass of champagne.  Don't be surprised if you see someone slip down onto their knees and pull out a small velvet box while you examine your bubbles and the City of Lights all around you.